Recycle your old electricals here
If you're buying a new electrical item, we will recycle your old one for free.*
.
Why recycle?
Unwanted electrical equipment is the UK's fastest growing type of waste.
Many electrical items can be repaired or recycled, saving natural resources and the environment. If you do not recycle, electrical equipment will end up in landfill where hazardous substances will leak out and cause soil and water contamination – harming wildlife and human health.
We can help
We are pleased to offer our customers the chance to recycle their old electrical items when purchasing a new item from us. Please use the following form (insert link to form) to dispose of your Waste Electrical or Electronic Equipment (WEEE).
Crossed out wheeled-bin symbol
To remind you that old electrical equipment can be recycled, it is now marked with a crossed-out wheeled bin symbol. Please do not throw any electrical equipment (including those marked with the crossed out wheeled bin symbol) in your bin.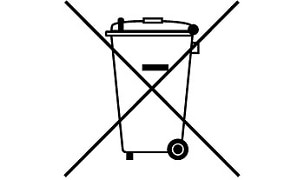 Where & how to recycle waste packaging?
Return, collection and recovery systems available to our customers:
The following page on ERP UK's website includes a link where our customers can locate their nearest recycling point: https://erp-recycling.org/uk/where-to-recycle/
.
Customers role in contributing to the reuse, recovery and recycling of packaging and packaging waste:
Information sharing about products containing packaging material is encouraged through the ERP website and through member forums and organisations specialising in recycling communication such as WRAP. ERP audits will include an assessment of the usage of recycled material in member products.
Good examples will be benchmarked and promoted by ERP.
ERP also offers support for members who wish to work with a local authority or recycler directly to increase the return and recovery of packaging waste and to promote end market usage.
The meaning of recovery and recycling markings on packaging:
Information about packaging markings and symbols can be accessed on the following page of ERP UK's
website: https://erp-recycling.org/uk/learning-centre/faqs/
The national waste strategies for England, Scotland, Wales and Northern Ireland: Links to these are included on the following page of ERP UK's website: https://erp-recycling.org/uk/learning-centre/useful-links/
*We will recycle all of your old electrical goods free of charge in an environmentally friendly manner, however please be aware that all postage and packaging costs are non-refundable and are to paid at your own cost.